The Background
Tracy and Matt had been married for eight years when Matt was deployed to Iraq. They had three young children and were enjoying the chaos that raising small children can bring. Then came the call that changed all of that. Matt was in a HUMVEE that ran over an IED. While he had some physical injuries they were relatively minor compared to his Traumatic Brain Injury (TBI). Tracy and Matt's family lived close by. They dedicated themselves to his care and recovery and helping Tracy take care of Matt and the children. She could never do it without them. Matt was coming home in a wheelchair and the home needed substantial modifications for his care. Getting him into a rehabilitation hospital was key to learning how to speak, walk, and to perform many tasks again.
The Challenges
Luckily, a great rehab hospital was only about 45 minutes away. It was going to be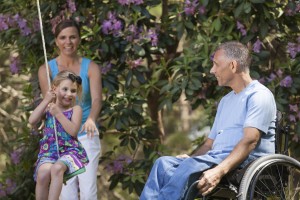 months of grueling shifts of speech, occupational, and physical therapies with inpatient care. When Matt came home he was still going to be using a wheelchair and a walker. He would still be struggling with memory and speech loss. He would need help with everyday activities and self-care. Tracy had to care for her small children and depended on the help of close family for help with the children and Matt.
The Obstacles:
Matt and Tracy lived in an already cramped two story home with no bedroom on the first floor.
This was going to be a long term rehabilitation and Tracy was determined to keep Matt with her and their kids.
With the absolute necessity of the parent's support, they needed a first floor bedroom for Matt and an additional bedroom for parents helping as caregivers.